VostroNet has been appointed by the Sunshine Coast Council (SCC) to deliver high-speed public wireless throughout the region. The appointment comes after the network provider demonstrated its extensive capabilities through a formal process hosted by SCC.
VostroNet's scope includes delivering Public Wi-Fi across the Sunshine Coast region, including the major regional airport, libraries, stadiums, beaches, parks, smart city streets and other council venues.
The network provider has a strong track record in providing high-speed, secure Public Wi-Fi including projects such as Queensland University of Technology's (QUT) Public Wi-Fi (~1500+ access points / up to 40,000+ users) across their Gardens Point and Kelvin Grove campuses.
Jonathon Runge, CEO of VostroNet, welcomes the opportunity and believes "VostroNet is playing its part in enriching the region by providing high-speed connectivity to residents and visitors".
"We have a strong commitment to investing in infrastructure in the region to facilitate the digital economy".

Jonathon Runge, CEO of VostroNet
The project will see VostroNet deploy its infrastructure throughout the region including through the heart of the Maroochydore city centre, and will put the network provider in a great position to cater for future development. The Sunshine Coast is one of Australia's fastest-developing economies and is set to benefit from the new RTI undersea fibre optic cable landing in Maroochydore and other Smart City initiatives.
Q2 Software Platform
One key component of VostroNet's wireless network solution is its innovative Q2 Software Platform including the powerful analytics engine.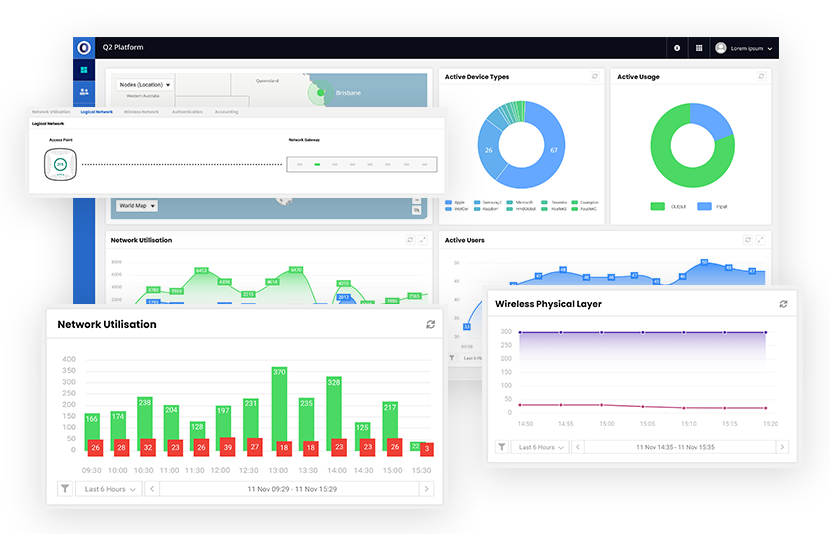 The Q2 Platform interfaces with Council systems, including location zoning, advanced demographics on footfall, repeat and complementary visits and dynamic landing pages – enhancing community and visitor engagement while providing a safe and improved service.
VostroNet's deployment of public wireless throughout the Sunshine Coast ensures both residents and visitors to the region will have access to reliable, fast, free Wi-Fi for years to come.
About VostroNet
VostroNet is a licensed telecommunications carrier with our footprint extending throughout the Asia Pacific, servicing over 25,000+ connections. Operating its own network facilitates VostroNet's ability to scale with demand growth and handle rapid bursting during events and peak periods.
Visit VostroNet's website for more information on its Public Wi-Fi network.